Our unique dog collar trail bells are designed to give you peace of mind on the trail. Simply slide the loop through your dog's Rope Hounds collar, and when your companion explores the world, you will hear them jingling along the trail. 
Want a Different Color Rope? Just put the color you want in the NOTES section at Checkout!
• Lightweight
• Fits on all Rope Hounds collars
• Fits over collars up to 1.5" wide
• Made out of durable climbing rope
• Engraved metal cowbell with patina look
• Handmade in the USA
• 4.5" in total length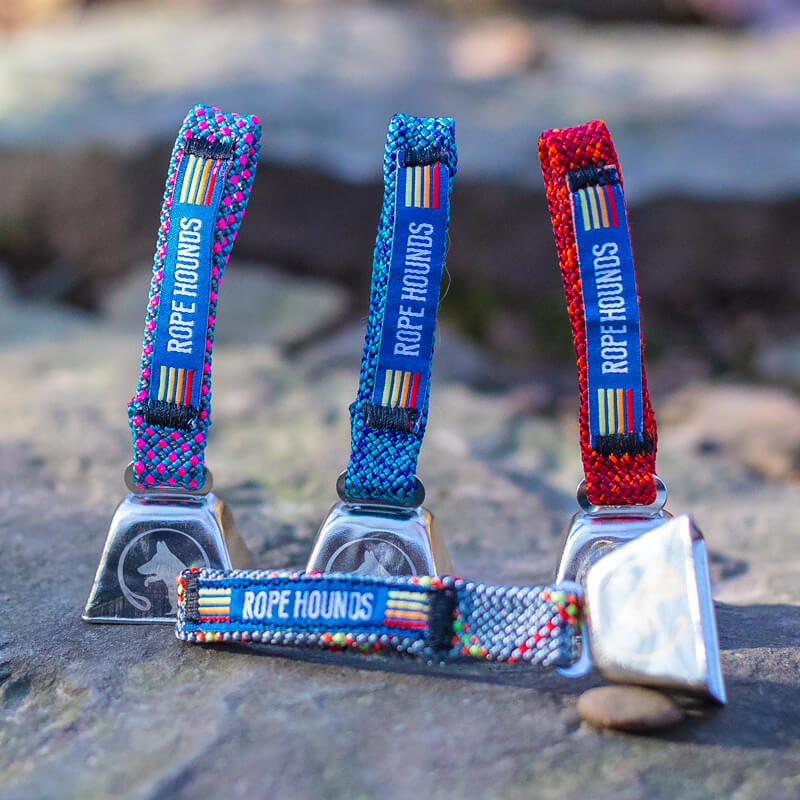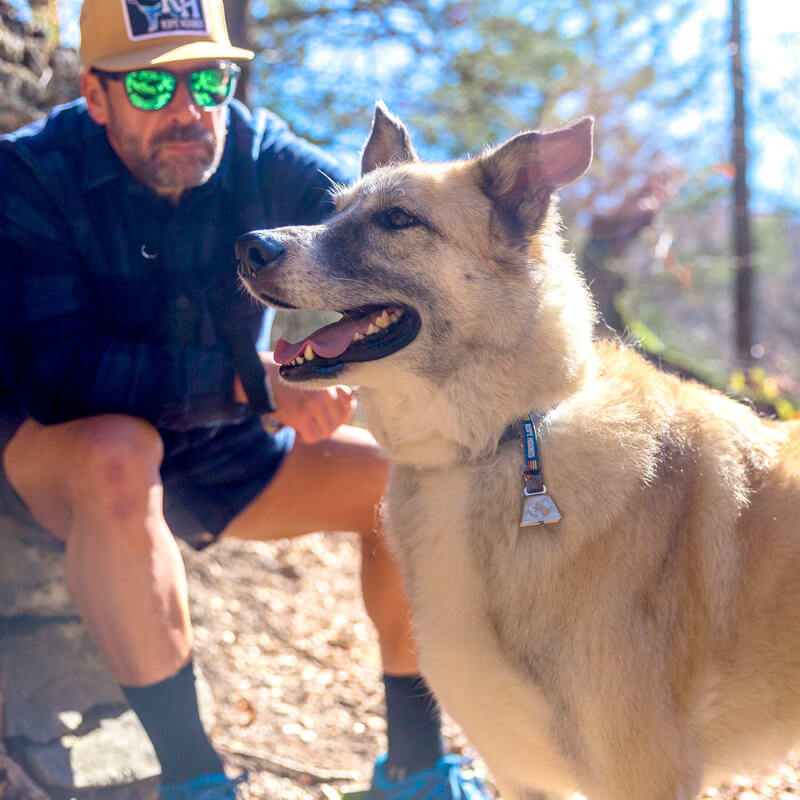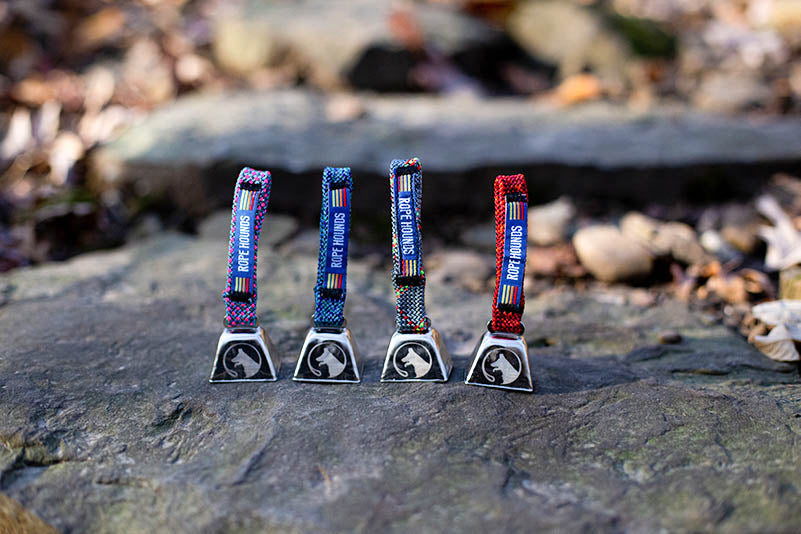 Handmade
With Adventure in Mind!
Because life is more fun when you can explore with gear you can trust.
Dog Trail Bell - Razorback Red
This bell is nicely crafted and light-weight enough for a small dog. The sound carries well and is pleasant, so not annoying to me or other trail users (I have even had folks with dogs ask me where I bought the bell because they liked the ringing!). It is perfect for keeping track of my dog while we are on off-leash hikes in terrain where I can't always see him. The braided loop is strong and well stitched; I can't imagine it ever falling apart. Rope Hounds customer service was great. Before ordering, I wanted to make sure that the sound made by the bell was different enough from another bell worn by my other dog so I'd be able to tell which dog was where; I called the company and they were kind enough to make a short video of the bell being rung which they emailed to me. Once I established that it was what I needed and would work for me and my dogs, I ordered the bell, which was delivered promptly--as I said, wonderful customer service!
Perfect as a warning signal for my barn cats
New puppy will chase anything that runs. This bell is perfect as a warning devise. Helps me hear where she is on the property too!
TRAIL BELL(S)
We purchased a pair of those bell(s) for our dog(s) in order to help keep better track of them while out on walks with them in our back yard/woods ... I initially thought they might not work well because of their size but have been impressed with the performance. I would highly recommend this product for pet owners!
Collar bells
Well crafted, nice looking and durable. Also really like the bell tone!
Rope Hounds
I bought 2 of the Dog Trail bells. The owner is awesome ! He contacted me directly and made sure which color pink I wanted . I received them quickly perfectly packaged and they are so well made durable and I love the sounds they make and the price is fantastic. Thanks you so much Rope Hounds ! I love them !